Inhaltsverzeichnis
FORSCHUNGSFORUM 1/2006
THE SAHEL PROJECT
Silicate technology for the improvement of water uptake and nutrient storage in marginal soils
The "Sahel Project" relies on a silicate-based water and nutrient storing technology. The water-storing substrate developed in Austria is a soil improver that helps to significantly increase yields in vegetable crops cultivated in arid areas.
Description / table of contents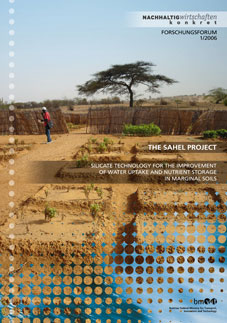 PROJECT
Silicate-based water storing technology for sandy soils in the sahel
RESULTS
Technology development and results from the field tests
PROJECT
Prerequisites for successful implementation
PERSPEKTIVES
Identifying potential applications
Download
The Sahel Project
Silicate technology for the improvement of water uptake and nutrient storage in marginal soils
Forschungsforum ist eine vierteljährlich erscheinende kostenlose Publikationsreihe des Bundesministeriums fur Verkehr, Innovation und Technologie die über Ergebnisse aus Forschung, Technologie und Entwicklung in den Bereichen Energie, Umwelt und Verkehr berichtet.
">Forschungsforum
1/2006
Publisher: BMVIT
English, 6 pages, out of stock
Downloads for this publication

---