Inhaltsverzeichnis
FORSCHUNGSFORUM 4/2001
USER BEHAVIOR AND EVALUATION OF SUSTAINABLE CONCEPTS OF RESIDENTIAL BUILDINGS
A Focus within the "HAUS DER ZUKUNFT" Subprogram
Projects focusing on the social factor in energy-conscious building construction. Analysis of user motives and experiences as a basis for future planning.
Description / table of contents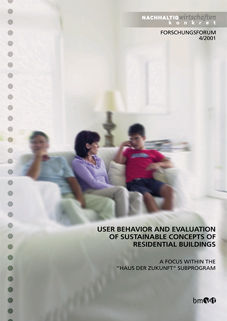 TOPIC
"Haus der Zukunft": A subprogram within the scope of the "Sustainable Economy" stimulation program
User behavior and evaluation of sustainable residential buildings
PROJECTS
Subjective evaluation of residential buildings as criterion for the social acceptance of sustainability
Experience of occupants of pilot and demonstration residential and office buildings
PROJECT
Ecological buildings in practice
PERSPECTIVES
Results and future strategies
Download
User Behavior And Evaluation Of Sustainable Concepts Of Residentia Buildings
A Focus within the "HAUS DER ZUKUNFT" Subprogram
Forschungsforum ist eine vierteljährlich erscheinende kostenlose Publikationsreihe des Bundesministeriums fur Verkehr, Innovation und Technologie die über Ergebnisse aus Forschung, Technologie und Entwicklung in den Bereichen Energie, Umwelt und Verkehr berichtet.
">Forschungsforum
4/2001
Publisher: BMVIT
English, 6 pages, out of stock
Downloads for this publication

---